Carroll Seniors 2022! It's Portrait Time!
Monday, October 11, 2021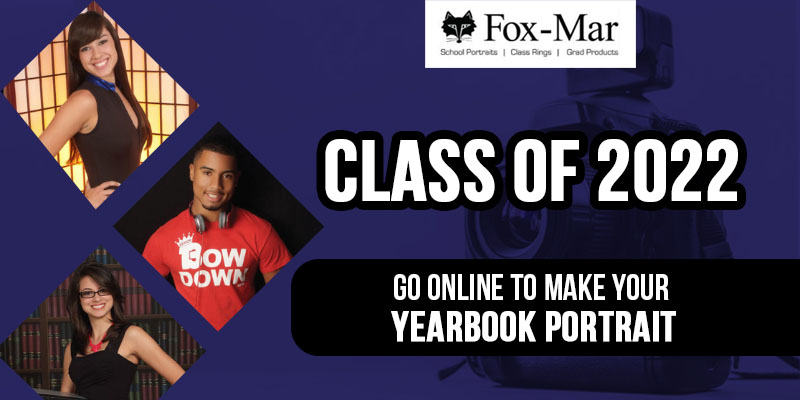 Time to schedule your senior portraits with Fox-Mar | Portraits must be taken by October 15th
Please follow the guidelines as listed from our parent-student handbook
Ladies must adhere to these guidleines:
Hair must be neat, clean, well groomed, not distracting or drastic. Styles cannot be extreme or symbols of a counter culture. Multi-colored hair is not allowed, I.E. Blue, Green, Purple, Etc.
Gentlemen must adhere to these guidelines:
Hair must be at least 1/8" in length, and cannot be grown past the shirt collar, over the eyebrows or more than ½" over the ear. Ponytails, Mohawks, Faux-hawks, braids or corn rows are not permitted. Heads cannot be shaved or carved with any type of designs.
Gentlemen must be clean-shaven. Mustaches and goatees are not permitted. Side-burns may not be more than half way below the top of the ear. Earrings may not be worn.
Appointment Hotline 1-866-227-5406.
- /// -
Es hora de hacer tu cita con Fox-Mar para tu retrato de graduación | Los retratos deben ser tomados antes del 15 de octubre
Por favor seguir las directrices que se le indican en nuestro manual de padres-estudiantes
Las señoritas deben adherirse a estas directrices:
Cabello arreglado, limpio, bien recortado, nada exagerado ni drástico. El estilo no puede ser extremo o símbolo de una contracultura. El cabello multicolor no es permitido, es decir, azul, verde, morado, etc.
Los caballeros deben cumplir con estas directrices:
El cabello debe tener al menos ½" sobre la oreja. Coletas, mohawks, faux-halcones, o cualquier tipo de trenzas no están permitidos. La cabeza no puede estar afeitada o tener tallados con cualquier tipo de diseños.

los niños deben estar bien afeitados. Los bigodes y los candados no están permitidos. Las patillas no deben estar a más de la mitad por debajo de la parte superior de la oreja. No se pueden usar aretes (Zarcillos).
Appointment Hotline 1-866-227-5406.