2021-2022 Year Calendar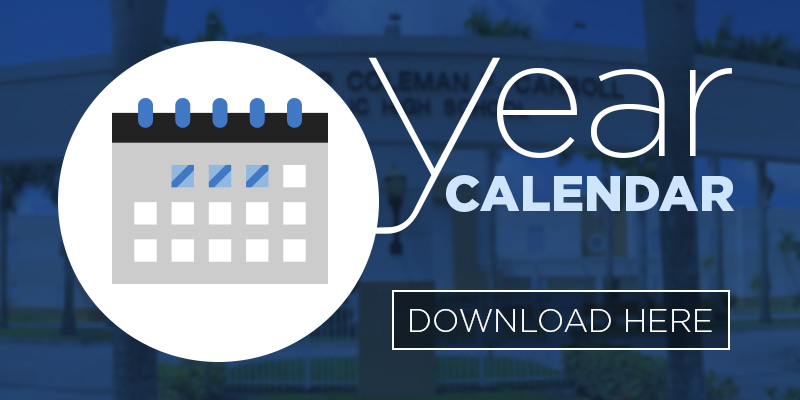 2021
OCTOBER
October 2: 9th Grade Service Saturday.
October 11: Columbus Day-No School.
October 11: Teacher In-Service.
October 16: 9:30 Open House.
October 18: 2nd Quarter Begins.
October 18: Homecoming Week Begins.
October 22: Homecoming Game.
October 23: Homecoming Dance.
October 26: 7:00 Open House Night.
NOVEMBER
November 1: All Saints Day; All School Mass.
November 3: Report Card Conferences.
November 11: Veterans Day – No School.
November 22-26: Thanksgiving Vacation.
November 25: Thanksgiving Day.
November 28: First Sunday of Advent.
DECEMBER
December 4: High School Placement Test.
December 8: Solemnity of Immaculate Conception: All School Mass.
December 13: Semester Exam Week.
December 20: Christmas Vacation Begins.
December 25: Christmas.
2022
JANUARY
January 1: New Year's Day.
January 3: 3rd Quarter Begins.
January 17: M.L. King Day; No School.
January 20: All School Mass.
January 23: Close Up Trip to Washington is this Week.
January 30: Catholic Schools Week.
January 30: Begins; Family Picnic.
FEBRUARY
February 7: 3rd Quarter Progress Rpts.
February 10: All School Mass.
February 21: Presidents' Day; No School.
February 23: Junior Mass & Class Ring Ceremony.
MARCH
March 2: Ash Wednesday; All School Mass; Lent Begins.
March 21: No School; Faculty In-Service.
March 22: 4th Quarter Begins.
March 25: Solemnity of the Annunciation.
March 31: Report Card Conferences.
APRIL
April 7: All School Mass.
April 10: Palm Sunday.
April 14: Holy Thursday; Easter Vacation Begins.
April 15: Good Friday.
April 17: Easter Sunday.
April 27: 4th Quarter Progress Reports.
April 29: Grad Bash.
MAY
May 5: All School Mass.
May 11: Awards Ceremony Athletics.
May 16: Seniors' Exam Week.
May 20: Senior Prom.
May 24: Baccalaureate Mass.
May 26: Graduation.
May 27: No School.
May 30: Memorial's Day-No School.
JUNE
June 1: Awards Ceremony 9th-11th.
June 2: All School Mass.
June 3: Final Exams Begin.
June 8: Last Day for 9th-11th.
July 4: Independence Day.